In case you haven't heard, sequins are making a comeback. And before I continue, I just want to tell you that I swear on Chanel Iman, Vogue, and well. Sequins, that I never ever ever ever ever ever ever ever lie. EVER. Got it? Good.

To continue... well, I'm pretty much in love with sequins. But I've been in love with them for such a long time. Since the start of summer when maybe just ONE designer, I'm not sure who, had like. A shirt completely adorned with sequins. It was amour at first sight.

And now, since fall is seriously here, as in IN-YOUR-FACE here, designers are whipping out trends quicker than you can even utter to yourself "j'adore". And a trend that is evolving? SEQUINS. sequins, sequins, sequins, sequins! all in there magnicifent glory.

But like anything worthwhile, too much is not good. You don't want to end up look this, non?

Sequins are definitely a lot more appropriate for night time, and parties and what-not, but it's super easy to incorporate these beautiful designs into a daytime ensemble, for school.

Balmain always does the most superb/fantastic/insane/epic work with sequins for fall.
This isn't the best picture of what they've made, but a good example. I'm particularily in love with the third outfit. The white tee really balances the glamour from the sequined bandage skirt.
To work sequins into a more modest outfit for school, maybe work, is still quite simple.
I'd suggest instead of being more head-on like wearing the tight tunics Balmain has to offer, but more of... accessories!
*jazz hands here*
Take this for instance.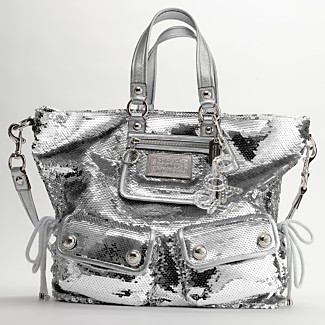 A beautifully made Coach Poppy bag. It would work for a school bag, and instantly gives your outfit a couple of extra points. In the case if you ever choose to go mime, and wear all black, people will still OOOH and AHHHHH over your outfit with this beauty.
Yay for sequined shoe wear DKNY has these for 98 dollars at net-a-porter right now. Not only will they match with absolutely anything in your wardrobe, but who doesn't love DKNY? Plus, they're less expensive then some other tackier shoe pieces from Coach.
Oh, darn it.
Blogger isn't being a lovely person and isn't letting me upload photos.
Au revoir, mes amies!
Love,
Francesca
xx